CARE Seminar - Boerne, TX
February 11-12, 2023 · Saturday-Sunday
RAINDROP I, II & VITAFLEX

Instructors:
Elisa McClure CCI, CRTS


Register for this 12 hr workshop in Raindrop and Vitaflex,
12 hours on the theory and practical applications of essential oils, providing 12 hours of continuing education for massage therapists, bodyworkers, physical therapists, and other professionals.
CARE Vitaflex is required before taking Raindrop I. Raindrop I is required before Raindrop II. (All offered in this Seminar)
Note: Raindrop training will be given in two separate sessions. You must attend both sessions to receive your certificate of completion.
Participants completing the training will:
~ Understand the Fundamentals of Aromatherapy
~ Learn to Apply Useful Skills in Vitaflex
~ Learn to do the Raindrop Technique
CONTINUING EDUCATION CREDIT
The Center for Aromatherapy Research and Education (CARE) is approved by the National Certification Board for Therapeutic Massage and Bodywork (NCBTMB) as a Continuing Education Approved Provider. This Seminar is worth 12 CE credits through NCBTMB.
The 12 Hours of Credit for this Seminar are the first step toward becoming a Certified Raindrop Technique Specialist (CRTS) through the Natural Therapies Certification Board (NTCB). Completing this Seminar is also the first and basic set of requirements for becoming a Certified CARE Instructor (CCI), should you wish to pursue a teaching career with CARE. An additional 13 hours of CARE class time is required to move forward with these certifications.
CONTACT INFORMATION
Elisa Travisono McClure
635 FM 474
Boerne, TX 78006
210-378-9153
IMPORTANT NOTE: ONLINE REGISTRATION
is available via this link for the complete CARE Basic Seminar. You may register using a credit card directly
HERE
or call Elisa McClure 210-378-9153 for other payment forms
PROGRAM LOCATION
Health Journey Wellness Studio
635 FM 474
Boerne, TX 78006
210-378-9153
ON-SITE ACCOMMODATION RESERVATIONS AVAILABLE
: Call for details, 210-378-9153
San Antonio, TX
SAT
(45 minutes)
Austin, TX
AUS
(1hr 30 minutes)
Driving: GPS location 635 FM 474 Boerne, TX 78006
Saturday, February 11, 2023
8:00 AM Sign-in
8:30 AM IIntro to CARE/Applied Vitaflex
12:30 PM Lunch Break (provided)
2:00 PM Raindrop I
6:00 PM Adjourn
Sunday, September 25, 2022
8:30 AM Raindrop II
1:30 PM Evaluations and Adjourn
Individual Course Credits & Ala Carte Prices
Applied Vitaflex 4 hours $160
Raindrop I & II 8 hours $365
TOTAL SEMINAR PRICE

12 hours . . . $525.00 U.S. d
ollars (includes certificate)
Former CARE Students 1/2 price
LIMITATIONS OF CLASS SIZE (3 people)
Raindrop and Vitaflex registration are limited to keep class sizes small for better hands-on attention and training. In this particular Seminar, the number of participants for Raindrop and Vitaflex may be limited to the first 3 people who register and pay.
Full refund minus $50 for processing cancellations no later than two weeks before the seminar date.
Class Notes, Necessary Oils, Handouts, and a Certificate acknowledging your participation in the course or courses are all included in the seminar fees.
Bring two (2) sheets, two (2) bath towels, and one (1) hand towel. Please mention this when registering if you are willing to bring a massage table.
Texts and videos required for CCIs and other publications will be available for sale at the Seminar. Each student will receive a Handbook and Class notes.
IMPORTANT
Your fingernails (nail polish removed) must also be very short and filed smoothly on the edges and corners. With long nails, you will not be able to do all of the Vitaflex and Raindrop techniques. Because of your nails, you may not receive credit for the course if you cannot perform all the methods taught in class. Clippers and files will be available in class.
WHAT STUDENTS SAY ABOUT CARE PROGRAMS
There is so much excellent information in the CARE training. I am very happy to have been introduced to these classes. I learned a lot. Definitely worth it. MV
I learned so much about the chemistry of oils and why they are so effective, healing every cell in the body and permanent healing is possible. Our instructor Elisa was very easy to learn from and is extremely knowledgeable in emotional, spiritual, and physical healing. What an awesome weekend. LH
CARE classes have helped me better understand the body, wellness, and how we can heal ourselves with God's help. Learning the Vitaflex and Raindrop techniques, and the science and philosophy behind them has been life-changing. I feel empowered to take charge of my own healing and to help others realize they can do the same. Elisa is a caring teacher who shows her love for CARE, Raindrop, Vitaflex, and healing as she teaches. I love her passion and love for her students. KH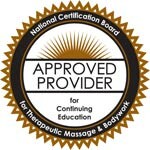 Center for Aromatherapy Research and Education is approved by the National Certification Board for Therapeutic Massage and Bodywork (NCBTMB) as a continuing education Approved Provider.